2019 Productions by 
The Lake City Community Theatre will present:
Dearly Beloved
---
Show Dates – March 21, 22 and 23, 2019 @ 7:30pm
 March 24, 2019 @ 3:00pm
Tickets will be available beginning on March 5 – March 16, Monday – Friday at the Greater Lake City Chamber of Commerce or by calling 843-374-8611.  All tickets are reserved seating.
$20 – adults
$15 – students
THE STORY: Hilarity, Texas style! An over-the-top wedding, three feuding sisters and a church full of small town eccentrics. What could possibly go wrong? In this fast-paced, laugh-a-minute comedy, the Futrelle sisters of Fayro, Texas – Frankie, Twink and their estranged sister, Honey Raye – are thrown together to pull off a family wedding. But it is not going well. Frankie's oldest twin daughter is marrying the son of the queen of what passes for high society in Fayro and Frankie is desperate to make this antebellum-themed wedding an elegant affair. It soon becomes obvious that Fate has other plans…
This joyful Southern-fried Jones Hope Wooten Comedy about love, marriage, sisterhood and three hundred pounds of good, ol' Texas barbeque will have you laughing all the way down the aisle!
---
Student Production:
Peter Pan, Jr.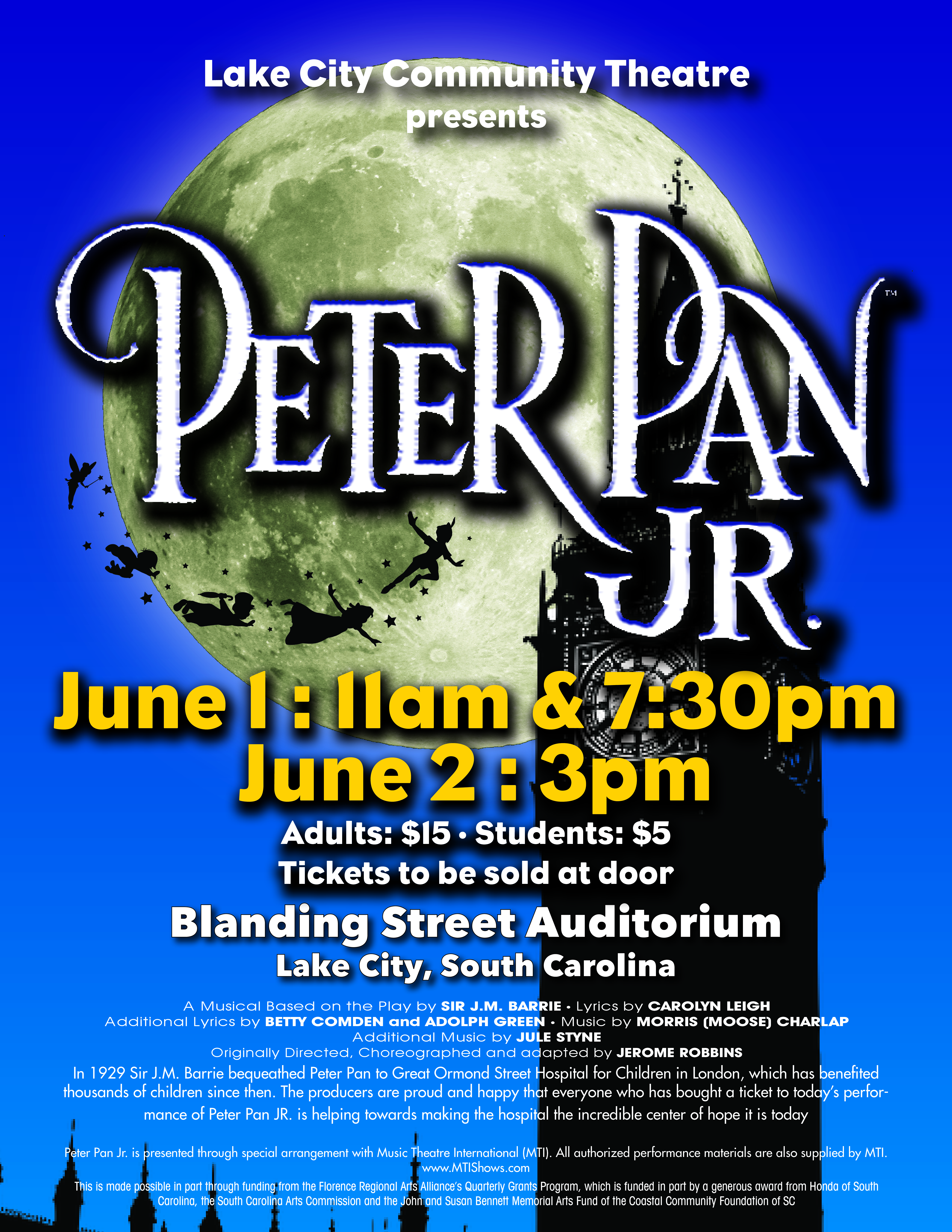 Auditions for youth ages 8 (must be 8 yrs.old by auditions) through age 18 will be held
Sunday March 10th at 1:30 pm and Tuesday March 12th at 6 pm
---
Show Dates – Saturday, June 1st (2 showtimes)
11:00 am and 7:30 pm
Sunday June 2nd @ 3:00 pm
More Info As It Becomes Available!
---
All Performances held at:
Blanding Street Auditorium
125 S. Blanding Street
Lake City, SC 29560